The lasting friendship between a human and a dog is one for the books.
Take the case of a 97-year-old woman and a furry giant Saint Bernard – they have been best buddies and best neighbors for more than five years now!
Sally, a 97-year-old granny from Mt. Vernon, Washington, is an animal lover. She is fond of Brody, a five-year-old Saint Bernard owned by her neighbor, Dave Mazzarella. Dave and Sally have been living in the same neighborhood for the past 15 years.
Sally had lived in Washington state since 1952. She grew up right on a small farm in Holland before her family moved to the United States. Sally had lost her husband in 1990. She had been living alone because all of her children moved far from her place.
Despite being alone for years, Sally was never alone, thanks to her loving neighbors and Brody!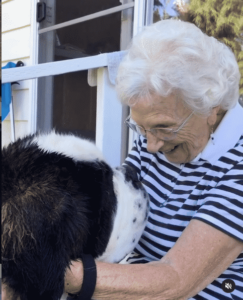 Among all the pets David had, Brody had a special place in Sally's heart. Brody was introduced to Sally when he was a year old. David would bring Brody to Sally's place for occasional visits. Over time, Sally developed fondness over Brody; she would give him treats, scratch his ears, and pet his soft fur.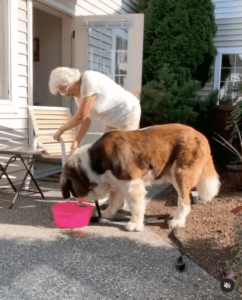 Brody's occasional visits to Sally became a regular one. They would go on walks together and spend time cuddling each other while watching the news. Brody would even pick up the newspaper for Sally and be her constant companion in church.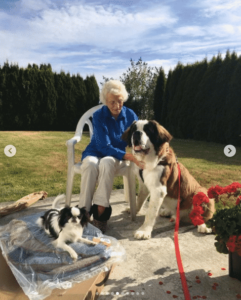 As much as Sally wants to have her furry companion, she is not capable of taking care of it daily due to her old age. Brody's regular visits to Sally's place are already enough for her. She doesn't let her age keep her from having a wonderful time with her favorite dog in the neighborhood.
Brody shares her daily adventures with Sally on Instagram. Brody's Instagram account is shared with Lulu, his dog sibling.
At present, Sally has moved into a care home, but Brody still visits here.
Thank you for sharing your story with the world, Sally and Brody!
Photos courtesy of blizzardandlulu via Instagram