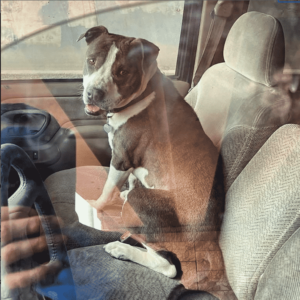 People who adopt dogs would often claim how their furry companions rescued them. And in the case of a dog named Astro, this particularly holds true. This is because the American Pitbull-terrier mix was responsible for alerting their neighbor regarding his fur parent's medical emergency. And because of this heroic action, it earned him an award from El Paso Fire Department in Texas.
He received the award on April 16 after saving his owner's life following a medical emergency the previous week. According to KTSM, the citation for his heroic act included a medal, as well as a dog-friendly cake.
The courageous darling alerted their neighbor on April 14 regarding his owner, who was undergoing some medical distress. Subsequently, their neighbor got in touch with emergency responders, who immediately provided Astro's owner with the medical attention he needed to survive.
According to Enrique Duenas-Aguilar, the worried dog even tried to climb their ambulance with his owner. Some firefighters had to lure him back to another vehicle, so other family members could come and pick him up. He also said that they would never have found his owner without Astro's keen sense and instinct.
And even though they did not disclose the nature of Astro's owner's medical emergency, his family did say that he is currently recovering and stable amidst the traumatic ordeal.
Bertha Martinez, the mother of Astro's owner, admitted that they were reluctant to adopt him one year ago when he was discovered as a stray dog. However, she was relieved that they did. According to her, never in a million years did they think Astro would be doing something like that. She added that if Pit bulls are treated well and are unharmed, they would quickly become the kind of dog that Astro is now.
And we couldn't agree more! This is also a gentle reminder that everyone should treat dogs with kindness, regardless of what breed they belong to!
Source: @EPTXFire / Twitter