Just like humans, dogs can also get some serious health issues that could drastically change their lives. Luckily for some canines, they have families who would never give up providing their best chances of living a more comfortable life.
Duffy, an eight-year-old Irish Terrier, was a rescue dog adopted by Benjamin May when the pooch was still a little puppy. Their family deeply loved their pet and treated him like a child. However, Duffy was not-so-lucky with his health.
The fluffy boy had struggled with different health issues over the years. The May family always did their best to help Duffy get better. But unfortunately, the pup developed diabetes over time, which affected his eyesight, and he eventually got blind.
It was a tough time for Duffy's family to see that the pooch was struggling to get around the house, and it had affected his usually cheerful behavior. For two years, the doggo had to adjust to his new normal. Benjamin and his family made sure to help their dog in any way they can.
Luckily, there was a ray of hope for Duffy. With his vets and the May family's help, the pup's diabetes stabilized, which qualified him for eye surgery. They were thrilled to hear about the good news and brought Duffy to the Veterinary Referral Center in Malvern, Pennsylvania.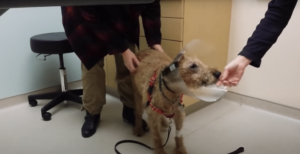 The family is grateful to Dr. Kevin Kumrow, who treated Duffy's diabetes, and Dr. Brady Beale, who worked on the dog's eyesight. Benjamin's parents were there with the pooch in the hospital during the operation, hoping that it would work.
Thankfully, the surgery was a success, and Duffy's reaction was caught on cam. The video showed that as the doggo entered the room where his hoomans were waiting, he quickly recognized them and excitedly ran up to them.
Duffy couldn't stop dashing around the room around his family, with his tail quickly wagging back and forth! The heartwarming reunion between the pupper and his owners was posted online by Benjamin, and it quickly went viral, garnering over 16 million views as of writing.
Video Credit: Benjamin May