A homeless stray dog from Udaipur, India suffered from a severe case of mange. When it appeared that she'd never been able to escape her misery, the committed rescuers from Animal Aid Unlimited came to her support.
Rescue squad
The Animal Aid Unlimited staff was always willing to assist animals in need, despite answering approximately fifty emergency calls a day. One day,  they responded to a complaint from a civilian that saw a street dog with a serious skin infection.
Once the volunteers from the shelter arrived at the scene, they discovered the frightened pup nestled on a makeshift bed on a nearby street. She evidently dealt with a serious case of mange for quite some time and was covered with scars. They realized they had to earn her trust before getting her back to the treatment center.
Though the dog was nervous when the rescuers approached her, they won her over with a couple of tasty biscuits. She then permitted them to cover her in a blanket and transport her away to a different life full of love.
Time to recover
When this anxious pup arrived at Animal Aid Unlimited, she started taking medicinal baths and treatments required to permanently eliminate her mange. Though she was initially concerned about the large number of humans surrounding her, she quickly realized that no one at this organization would hurt her. From that moment forward, this lovely canine thrived.
With the unconditional support of the dedicated team at Indian Rescue, this shy girl blossomed into a complete social butterfly. The team named her Shimmer because of her dazzling personality and ability to brighten up a room.
Thanks to Animal Aid Unlimited, Shimmer was able to get another shot at life. The precious dog was put up for adoption and awaited the perfect family that will give her the life she deserved.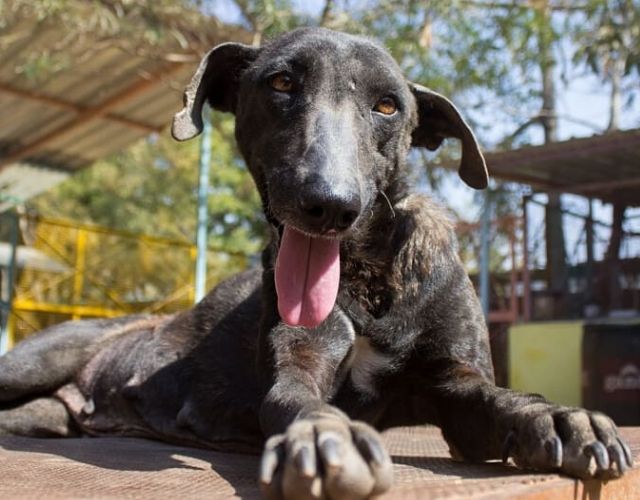 Photo Source: Animal Aid Unlimited via Instagram