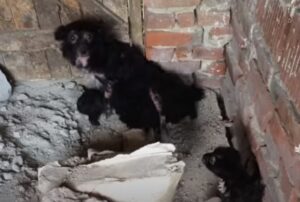 In Serbia, an animal rescue organization received a report about a dog with puppies. These dogs were found in an abandoned structure in the middle of a field in the countryside. The organization promptly dispatched a team to the reported location.
They arrived at the site where they needed to turn to a dirt road going to the abandoned house. But a locked gate blocked the entry of the rescuers. The team decided to go on foot.
The rescuers prepared their equipment and wore gloves for protection. They carried with them a couple of dog carriers for the puppies. The team entered through a gap near the gate and walked a few meters before seeing the abandoned shed.
The dogs inside the shed
The shed had part of its brick wall collapsed. Inside were bags of cement and dirt. The dogs were inside at the back of the shed, huddled together. The dogs got a little excited when they noticed the rescuers, but none became aggressive. The team picked the puppies one by one and placed them inside the carriers.
Before leaving, the rescuers checked around the shed to make sure they have all the dogs. After a thorough search, the rescuers picked up the carriers and carried the mother dog to their vehicle.
Looking at the mother, she had lost a lot of hair, perhaps due to a severe form of Demodex. She also has several wounds that needed treatment. The puppies appear to also have Demodex but in a less severe way.
Taking all the dogs to the animal shelter
The team brought all the dogs to their animal shelter. The rescuers bathed each dog, and then they had treatment for internal and external parasites. The mama dog received medical aid for her open wounds.
The dogs received medication for their Demodex. After they all recover and gain some weight, they will be ready for adoption. The rescue team saved the family before anyone of them succumb to hunger, disease, or injury.
Special thanks to Dog Rescue Shelter Mladenovac, Serbia via Youtube for the image of the story.