Buddy the Labrador Mix was an innocent stray that wandered the streets in Mississippi for food and shelter. One terrible morning, a 12-year-old boy decided to do a terrible thing that resulted in so much pain for the dog.
Burned and left
A good samaritan found Buddy with an extension cord wrapped around his neck with his front leg severely burned. The poor animal had third and fourth-degree burns on his face, creating a huge struggle for the dog.
Thankfully, the dog was dropped off at the Mississippi State University's veterinary college where he was given immediate medical attention.
Buddy got scheduled for multiple skin graft surgeries and was given medicine for his wounds. The dog also got his face bandaged daily to ensure his speedy recovery. Despite all the cruelty he faced, Buddy was still a sweet and clingy puppy.
Road to recovery
Over the course of a few weeks, Buddy reached multiple recovery milestones. The dog's whiskers and fur grew back on his face and his front leg was all healed up. It was good to see that his mobility has greatly improved since the incident.
Due to his resilience and forgiving nature, Buddy got awarded with the hero dog status. His induction into the Animal Heroes Hall of Fame 2021 was a great honor given to animals that overcame adversity.
Another way to honor Buddy's strength and bravery was through a profile page on the Animal Heroes Hall of Fame website. The dog also got his very own plaque in the virtual museum of animal heroes.
Buddy was truly a one-of-a-kind dog that deserved so much better. All of the obstacles that he faced were stepping stones towards a brighter future for him. Once he was fully recovered, an animal shelter would gather potential forever families for the kind and loving dog.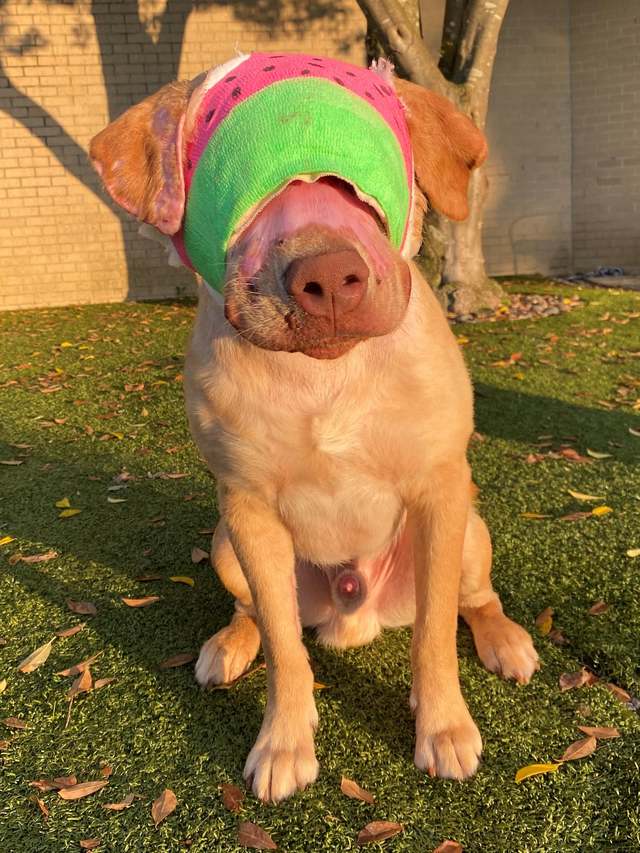 Photo Source: Tunica Humane Society via Facebook