Back in 2016 in Thailand, a puppy was brutally punished by his abusive owners for chewing on a pair of shoes. Instead of disciplining the pup calmly, they cut off his front legs using a sword. The poor pooch named Cola needed some serious help but the local vet was not well-equipped for something like this.
The Soi Dog Foundation, an animal rescue group based in Phuket, Thailand had received messages about the pup. So they sprang into action and flew Cola to a high-end veterinary hospital in Bangkok. The pup's front legs had to be amputated, but it saved him his life.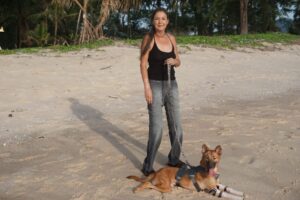 Luckily, one of the vets at the clinic had a degree in engineering and volunteered to make Cola's prosthetics. After a month, the co-founder of Soi Dog, John Dalley, was able to visit the pooch at the clinic. He to be a very friendly and happy doggo.
Along with John's wife, Gill Dalley, she also came to visit Cola. As soon as she walked in, the pooch ran up to her as if he was happy to see her. Gill is a double amputee herself and wears prosthetics, too. The two seemed like they had an instant connection.
Not long after, the Dalleys decided to adopt Cola as their own pet so they brought him to Phuket. When the pup's prosthetics started becoming uncomfortable, they were able to come in contact with Gill's prosthetist, Bengt Soderberg. He immediately fell in love with Cola and agree to make his new prosthetics.
Thanks to his new pair, Cola can walk, run, and play around with other dogs with no problem. The doggo was able to quickly adapt to his prosthetics as soon as he tried them on. According to John, Cola is surely a happy and loving doggo who has been spoiled with so much love and care from his new family.
Despite his disability, he can do everything well just like any other dog. It is truly amazing how resilient these dogs are. Cola is now happily living in his forever home with the Dalley family along with seven other dogs and four cats.
Video Credit: Soi Dog Foundation