Everyone knows how sociable canines are. No matter who they meet, dogs readily welcome them even if it's their first time meeting them.
Thus, a pair of canines show their excitement at seeing their fur dad bringing a huge box into their garden. And, when Dad finally opens the box, the dogs energetically greet the newest puppy arrival.
Oh, what's inside the box, Dad?
In this lovely footage, one can initially see a man hovering over a box in their garden. Not far away from him, a Golden Retriever and a Labrador comically circle and sniff the huge container.
With the way it looks, the dogs feel intrigued with the box's contents. But, despite their excitement, they eagerly wait for Dad to open the container.
Thus, the doggy pair content themselves with circling the box, with the Goldie subtly egging Dad to open it. With this, Dad decides to accede by slowly taking the lid off the box.
Wow! A puppy!
As soon as Dad takes the lid off, one can see a tiny puppy sitting inside the container. Before Dad can put the lid on the grass, the Golden Retriever excitedly moves towards the pup's location.
The Goldie then begins sniffing on the puppy named Jax, eager to get to know more of him. The Golden Retriever even scoots over to one side to make room for its Labrador sibling in welcoming their newest family member.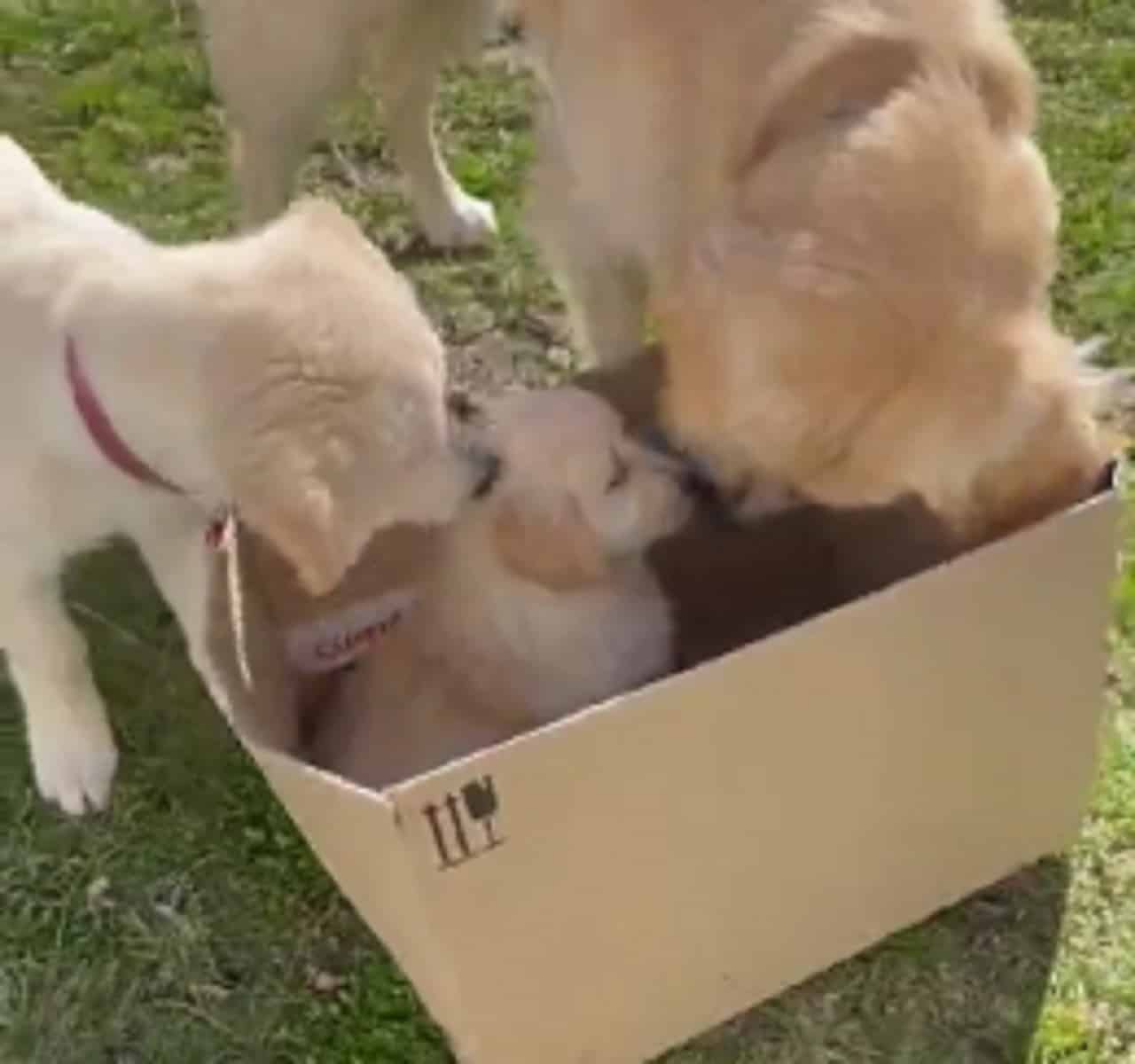 The Labrador and the Goldie then eagerly greet Jax by showering him with the sweetest kisses on the face. With the way things look, it won't take long before the doggy trio become the best of friends.
Can't get enough of the doggy pair's sweetness towards the new puppy? You better not miss out on this heartwarming scene by viewing the linked video clip below.
Video Credit: Rumble Viral via YouTube