The COVID-19 pandemic has rendered some, if not most, people around the world jobless and homeless at the same time. And Ryan Hamilton, a fur dad from Tampa Bay, was no exception. Given his current situation, he had to make the toughest decision of his life, and that is to surrender his furry friend, Dakota, to a shelter.
Ryan came to such resolve since he was aware he can no longer provide for Dakota financially. Aside from the pup's basic necessities, she also suffered from heartworm disease. So surrendering the pup was the most selfless act he can do for her. But before doing so, he had to make sure the shelter can accommodate Dakota's needs and definitely is a no-kill facility.
Tampa Bay Humane Society took the pup in for a couple of days. And although losing both his job and home left Ryan completely devastated, the thought of being with Dakota once more fuelled his desire to find another job but to no avail. Left with no other choice, he fully gave the pup up under the shelter's care for good, hopeful Dakota settles comfortably in the said shelter and finds a loving family in the future.
Days passed and Ryan never gave up hope to find a new job. Fortunately, he got lucky and eventually found a job and a new home too. Dakota was the first thing that came to his mind, so he reached out to the shelter hoping that the sweet pup was still there. Luckily, just as he prayed for, Dakota was still available and waiting for him.
Finally, the duo met once again after being separated for some time. The reunion was filled with nothing but happiness and tears of joy. Since one can't be ready in a jiffy, the shelter extended their help and provided a new collar and leash and a six-month supply of heartworm preventatives for Dakota. In the end, it was fate that brought Ryan and Dakota back together again.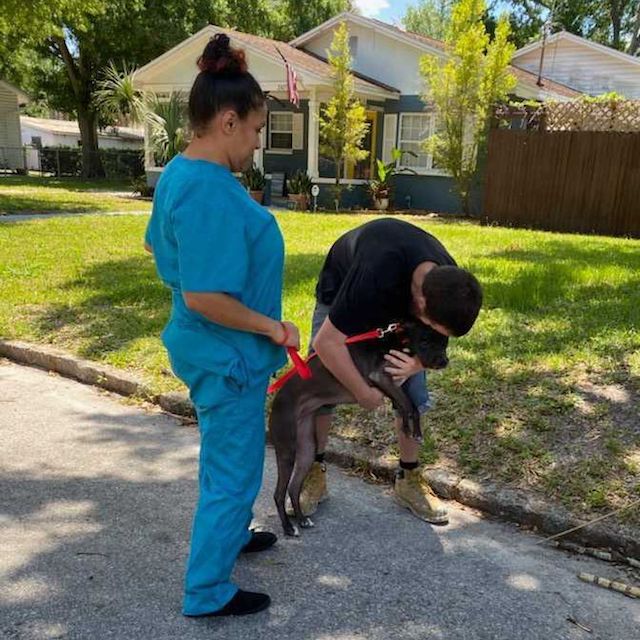 Source: Humane Society of Tampa Bay