While dogs are warm and very friendly, they can't please everyone. There are even people who eventually give up their dogs since they realize that pooches are not meant for them. In such cases, surrendering a dog to shelters is the most sensible thing to do.
But some people are so cruel that they just dump their dogs anywhere. A pup named Bella has been hurled into a cold river in the United Kingdom. Luckily, she is rescued immediately, and she has even found her new family.
Saving Bella from drowning
A woman named Jane Harper spotted the Belgian Shepherd with her neck above water. Later, it was found out that a large, heavy rock had been attached to her leash to weigh her down.
After seeing the dog, Jane sprang into action. She jumped into the cold water and pulled the struggling dog onto the shore. Soon after, authorities arrived at the scene and then took the dog to a local veterinary clinic. To hasten Bella's recovery, she was taken to a facility of the Royal Society for the Prevention of Cruelty of Animals (RSCPA).
Bella's new life is surely full of love
The 11-year-old dog has taken 15 months to be rehabilitated. But other than fully recovering, Bella has also found a new home with Charlie Douglas and Maggie Mellish.
Charlie and Maggie are a retired couple, and they have been described as the perfect family for Bella. This is because they have experience owning shepherd-type pooches. Thus, they will know how to properly take care of Bella.
Maggie says that they are aware of the amount of work and recuperation Bella needs. The couple explains that they're willing to finance the dog's regular vet appointments. Maggie also says that they want to offer Bella a loving home she so deserves after everything that she has been through.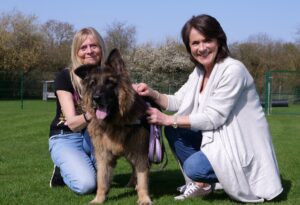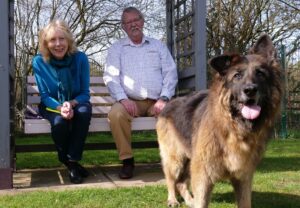 Image Source: RSPCA Radcliffe Animal Center via Facebook